but he gets his revenge…………ref and opponent both get a claw full on there bulges!!! i luv it when a dude cheats to gain the upper hand, to turn the tables, to do whatever instincts tells him 2 do 2 win!!!!we r all men, we all have balls and cocks, we all are proud of them but also protect them……so we use them to defeat our foes!!!!
a scissors is not enuff……..he must go for the bulge!!! FUCK YA!!
i fucking love doing the same thing!!!! tie up a dudes arms in the ropes or with rope or cuffs and then attack his most vulnerable spot, his fuckin junk!!!! there is nothing he can do, he cant hit u, his hands are tied!! he cant kick or get away if u pin him down. just fuckin grab that junk with ur hand and fuckin squeeze!!!!!
fuck now i have the need to ballbust someone!!!
a big kick right to the bulge!!! doesn't matter if ur bigger or smaller, tall or short, lean or muscular, bear or stud, a kick to the balls will do it each time!!!!
the dude is already ko, asleep, out of it, but the heel isnt happy yet, he isnt satisfied with that, instead he grabs those legs and holds them up and apart, plants his boot right between his legs and is about to press down. talk about rude awakening!!!! i fuckin love it!!!! the match is never over until the CHAMP says it is!!!!
this is fuckin great and i love to do this………. even have it done 2 me occasionally! u get in2 an intense apartment match with another dude, sweating, breathing heavy, testosterone flying all over the place! finally the dude pins u down, arms bars ur hands behind u, shit u r stuck, no where to go! what is going to do 2 u?????? then he reaches down between ur spread leg, to ur exposed bulge and takes a hold. he doesn't squeeze too hard, he doesn't want to hurt u or make u feel incredible pain, he just wants to remind u that HE is in CHARGE, that U r the LOSER, that HE is the CHAMP!!! he gently squeezes so u feel some discomfort but not incredible pain. he controls ur manhood, he controls ur hardon, ur woody, he controls how much it will hurt and how much he will pleasure u. fucking awesome!!!!!
the match is slowing down, no need to make u hurt any further, he just does it to control u, to remind u he is the boss, to remind u that ur balls r his, gently it turns in2 foreplay and b4 u know it u r both jacking and shooting!!!!! it all started with a controlled hold, a gently claw to the balls to remind u he won the match……. but ends in pleasure 4 u both!!!
this is fuckin hot!!!! look how the heel has no regard for his opponent, he just wants to fuckin punish him……….. and why shouldn't he??????? the dude in the singlet just demolishes the dude in the pink speedo with the sexy treasure trail. check out how he just destroys his balls while the photographer watches in content. check out how he doesn't care about the ego or the well being of his opponent, he just wants the humiliate him and get the win at any cost!!!!
check out the dragon sleeper at the end, it gets him the submission win. he lays him out in my famous dragonsleeper but his twist is he has a intense pit claw on him!!! good idea bro!!!! when he finally submits he lays out a huge forearm smash across his belly and treasure trail!!!! then he ties him up and continues to trash talk him and any future opponents that r watching.
he is vicious and mean and sadistic……….. just like me!!! i would fuckin love to go up against him. he isn't a pussy prettyboi, he is a man and wrestles to win!! he doesn't have the best bod or face but he is about demolishing his opponents, that is why i would love to test myself against him, test out who is more devilish, test out who can take more……. then fuckin join him for a tag team match while we take down some punks together!!!
look at the way he manhandles the wimp that has the balls to show up with that treasure trail leading to his pink speedos, he just doesn't care, he just manhandles him, works over all his bod, his balls, his fuckin pits, no regard for his manhood or bod, just demolishes him!!! the camera man loves it so does the photographer!!!!! demolishes him in an apartment match, just like i would, ties him up just like i would, but i am sure that i would dish out more punishment and pain, i would fuckin hurt him even more, both his bod and ego!!!
great picture, the tanned better looking dude is locked and pinned down by the nerdy pale dude……. what does he do, he sees the dude manhood and decides to go for it!! he grabs the balls and some pubes of the tanned stud and squeezes them. the nerd pale dude shows him that he is in charge, that no matter how hot u r or a nice tan u have, he is the master of the mats!!!! i fuckin love it, go outside, strip down to nothing and go at it in the woods. nerdy guy has this match!!!!! at the end he will probably make the cool dude suck him off…… hell, i certainly would!
this is great, the dude gets nailed in the balls and is lying on the floor holding his manhood in pain. the blue dude shares his pain, he holds on to his own balls feeling the pain of the other dude. we r men, we have balls, we have cocks, we have jewels between our legs that when hit hurt us. we share the pain of a ball bust, even 4 our fellow opponents. fuckin hot!!!!!!! but dude, he is already down, i say let go of ur balls, drop a headbunt on his head and go school him in pain!
fuckin HOT!!!!!! the pic on the right is a great sleeper but it is the pic on the left that has me tenting!!! look at the way the buzzcut hairy chested dude just dominates over the loser, with boot stomping on his face, his hand clawing his pec and the other hand manhandling his bulge…… multiple submission holds, pleasure and pain, humiliation, dominance, all in one picture!!! this dude knows what he is doing. i am the same way, its not enough to JUST make my opponent hurt, i want him to hurt ALL OVER and be humiliated. bringing him pleasure at the same time is fun to because it shows that i control him all over, i control his pain all over his bod AND control his pleasure. he will tent when i tell him to, he will get wet when i tell him to, he will moan in pleasure when i tell him to!!!!! fuckin love it!!! have to use this combination submissions/pleasure/humiliation soon!
this photo has all sorts of jack off worthy components, all great bone popping action!!!! dudes wrestling in a lockerroom, choke with his own clothes, ball busting, pain, humiliation, all great!!!!! fuckin tenting over here!!!
simple rules……… u grab the other dudes nuts and squeeze, whoever begs for mercy first sucks the cock of the winner!!!
dudes in the mask lay out the opponent then each grab a leg. were do u think this will lead??????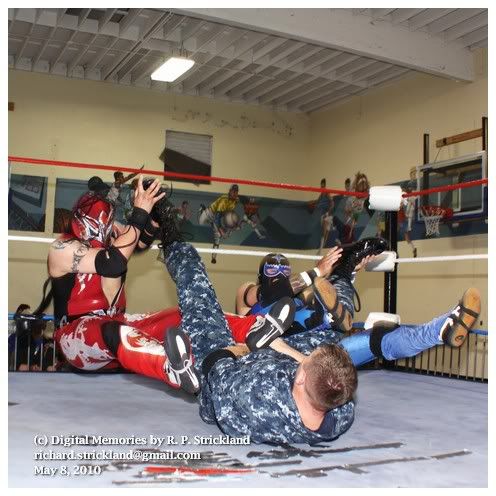 thats fuckin right!!!! double leg drop between the legs!!!! bust those balls!!!
great double team action!!!! the dude in total controls whips one dude in 2 the corner, then his partner into the other corner, then splashes them both. one partner falls to the floor, the other drops to the mat but lands his head on the bulge of his own tag team partner!!! fuckin awesome!!!! what is even better is then the dude in charge rolls the one tag team parter off and then decides to make it even he will fuckin DDT the dudes head into the partner of the other dude!!! that way they each get a bulge full of face and get their nads busted!!!!! not only is the move itself hot but so is the idea of the dude in charge doing it, he knows we r men, we treasure our manhood, so he knows what will really hurt both men, he fuckin goes after their nads, humiliates and hurts them in one move. that is fuckin awesome!!! i have done the same thing, landed one partner on another partners nads!!!! i know they both have bride in there family jewels so to work them over is another way to prove i am in charge!!!!
the asian in the purple is pretty hot! i would fuckin love to work him over with a few ddts!!!!