holy fuck!!! this is 1 of my ideal opponents!!! the hot buzzed head……solid smooth chest……sexy sweats with sneakers…..his pose telling us that he is cocky as hell and strong as hell and is not afraid to fight any1, anywhere, anytime!!
oh fuck i want to square up with him, stand eye to eye, bulge to bulge, chest to chest, our cold skin warming up as we press in2 each other, trash talking, in each others face, then the shoving begins, then all the fuckin fighting!! no mercy by either of us which is just fuckin fine with me. i want 2 c him sweating, heavy breathing, trying to get back up 2 his feet after i pummel him down a few dozen times, i stand above him, waiting, as he gets to all 4s i will fuckin kick him in the cage and watch him fall back down on his back!! i will spread apart his legs and sit between them, tie the waist bands of his sweats around his bulge, look him str8 in the eyes and then fuckin knot it and watch as he screams like a girl!!! only thing i'm unsure of is in the end if i want to face fuck him first or after i fuck his ass!
is that a singlet???? is the dude down there waiting for my elbow drop to his back?? then choke him out using the strap from his own fuckin singlet while i pull on his chest hair??????
a hot game of mercy, in the middle of the ring infront of a crowd of people watching, really putting it on the line, finding out who is the better man. so far its the tanned long hair dude, the buzz cut stud is on his knee, u can c his pain, he is fuckin screaming from the pain. 2 things can happen here……… the winner can guy the losers face to his bulge 4 extra humiliation…….. or the loser can raise his knee between the legs of the winner to regain control!!!!! what would U do??
these 2 animals just go at it like a brawl fight, rip there shirts off, one dude in jeans, toned, smooth chest, the other in shorts with his hair chest, i have a feeling this will get intense, there will be lots of straddling and punching involved that is for fuckin sure!!! these type of fights r intense because pride is on the line, there ego is at stake, bragging rights to there friends!!!! the winner will flex, will pound his chest, will point at the loser "u r a fuckin loser, i am the best", he will pound his chest again, flex to his friends, "feel that dude, go ahead, feel that muscle, feel these fuckin guns"!!!!, he'll grab his shirt, wipe his sweat off it and toss it back to the loser "here keep it as a memento of the day i kicked ur ass", the rest of the day he will walk around shirtless, proud!!!
its pretty hot how the smaller lighter smooth wimpier dude is forced to jack the bigger tanned hairy monster…….. then he grabs his head like he is a doll and shoves it in his pit…… "lick my pit while u jack me boi" he demands, which he can, he is the winner!!! he deserves it!! u can barely see the head of the little guy, its shoved deep in the pit of that massive bigger winner!!!!! love the dominance of the big dude, the cocky "i have the right to do whatever the fuck i want to do" tude!
fuck now i'm hard to have a jobber lick my pits while stroking me!!
singlet dude on singlet dude affection…… love how the guy just reaches over and gropes his stick thru that hot lycra. wrestlers have a lycra code, we know when another dude is in a singlet we r of like minds, we have the right to inspect the goods! love the little bit of hair on the red dudes chest, makes pulling on in during a match very hot
amazing!!!! so fuckin hot!!!!!! rubbing bulges together, kissing, making out during a match. how can it be helped???? 2 dudes wrestling around, sweating together, adrenaline going, testosterone so high, bulges and chests touching. we r men, its ok to get sexual sometimes, to show ur dominance and ur soft side with a gentle kiss or a vicious french. all part of the game and sport!!!!! which 1 turns u on the most???? for me its the 3rd one, on the bed, pinning the dude down, still in the gear, gentle kiss………. if that were U and me i would then ram my knee in ur balls and take control of the match!!!! u???
everything that i said about this dude applies to the 2 dudes below and the dude above!!!!!! with the added pleasure of getting to strip him down during the match!!!
allessio, still get the tremors with this dude 2??
i fuckin love combining wrestling with sexual shit!!!!!!! this is so fuckin hot!!!! these two college dudes r animals, fuckin going at it with each other, having wild and crazy passionate sex while getting really aggressive!!!!!
first the dude that thinks he is a top pulls the other dude closer, goes in for a hot steamy kiss while cluthing onto the shirt of the other dude, but then he turns the tables and takes control, he is all top and the other dude will learn that the hard way. he shoves his cock in his ass while clawing his abs, then he humps him from behind while choking out the dude AND biting down on his ear. the dude loves it, he loves being abused like this, the combination of wrestling and sex, finally he is fucks him even hard and grabs his hair and pulls it, fuckin wild beast having sex with his prey.
wrestling and sex, the ultimate combination!!!!!!!! do U like to combine them????
the RKO
wiki explains it as……… This is a variation of a standard cutter, but instead of running forward, the wrestler jumps level to their opponent's head while parallel to the ground, applying a three-quarter facelock and then slams the opponent's head to the mat or to the shoulder of the attacker.
ehow explains it like this……… Step 1: Kick your opponent in the stomach or the crotch to stun them. Step 2: Grab your opponent by the neck, pull and turn your body. Their head should be resting on your bicep and your back should be facing them. Step 3: Drag your opponent by their head, run and jump in the air. Step 4: Land in a seated position, making sure that their chin hits your shoulder on impact. Step 5: Pin your fallen opponent.
all good explanations but let me tell U dudes how i do the RKO…………..
step 1: drag ur weary opponent to his feet by grabbing a fist full of hair, if he is buzzed or shaved then grab the bottom of his chin. kick him in the fuckin crotch to stun the hell out of him!!!! then stomp on one of his feet so he is grabbing his crotch with both hands and standing on only 1 fuckin foot
step 2: grab his fuckin neck, pull and turn ur hot bod so that his wimpy head is resting on ur sexy bicep. ur back should be facing him. now flex so he can feel ur muscle, the muscle that is beating him, the muscle that is dominating him. don't forget the verbal abuse!!!!! flex so hard that is nearly crushes his adam apple!
step 3: now be sure ur facing a mirror, ur will want to c the look of devastation on his face after the next move!!!! do a bit of a run towards the mirror, dragging him behind u and then jump in the air!
step 4: land on ur ass and enjoy the sound of the site of seeing chin smash into ur shoulder from the impact!!!!!
step 5: now flex a bit while he is convulsing on the floor, the cock ur elbow and flex another muscle, kiss ur bicep and lower it so that ur pit is smothering his fuckin face and count 1-2-……… don't finish the pin. pull him back up and repeat steps 1-4 then fucking straddle his face and flex in the mirror while u count 1-2-3!!!!!
dude when i do that move i fuckin pin them to 10 because there is no way they r getting up. but ur not as good as me so U will b lucky with just a 1-2-3 count!!!!
checkout the hot pic below of hottie Orton using the RKO on the other hottie Cena on a steel chair!!! and the next one where hottie Orton drops the dude in a RKO from a ladder!!!
how often u use the RKO??? what is ur variation??????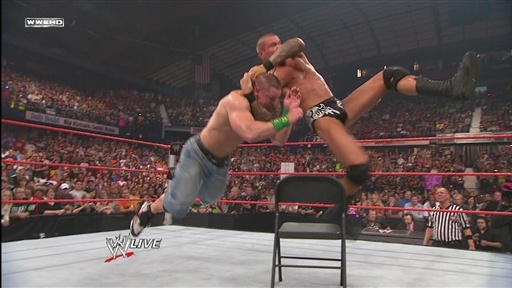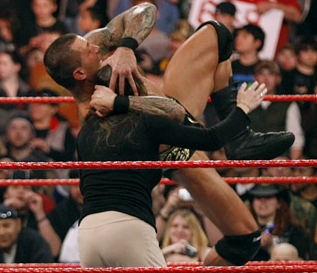 the master of the RKO, hottie randy orton in a sexy grey wife beater!
a man's man!!! dude has his tats, buzzed head, beard, hairy chest, showing off in his singlet!!! dude might not be the best looking dude with an iphone but he is a fuckin wrestler and looks good in his singlet, he will tear u apart despite how good U might look in ur singlet. dude fills it out well and will enjoy choking u out with his singlet strap after he nelsons u into fuckin submission!!!!
oh fuck, another dude i would LOVE to wrestle. that goatee and buzzed head is so fuckin sexy, look at him flexing, showing off this hairy pits, his treasure trail, jeans with fuckin underwear waistband showing, that sexy chest. this is the type of dude that i want to just destroy in the ring, rub his face all over my sweaty bulge, run his goatee across my nips lightly, shove his mouth in my pits, then when he's exhausted and worn out, sweaty from the match, push him into the corner of the ring, shove my hand down his underwear and stroke him gently as we kiss, our bodies rubbing up against each other, our tongues exploring each others mouths, our strained muscled arms embrasing each other, exploring each others bodies. i would climb to the second rope and pull out my member, he would take it into his mouth without even being told. but before we each shoot, fuck, i need to wrestle him some more and just as quickly as it started, i would pull him back into the middle of the ring, scoop him up and drop him across my shoulder, make him hurt and pleasure at the same time, bend him across my knee while sucking on his nip, pleasure and pain together!!!! fuckin twists his nuts while stroking his cock. fuck this is the perfect opponent for me. fuckin hot match and even fuckin hotter sex after! I bet he's wild in bed, we would be wrestling under the sheets while working up a sweat fighting that is for fuckin sure!!!!
stripping 4 the match:

teasing me b4 the match:

now its another smooth chested dude going at it with the same dude, but he's got a buzz cut. he lays out the hairy chested dude on the ropes and punches him in the chest. the dude looks good with some hair on his pecs, wrestling with just a little speedo to show off the hair on his bod. he is a MAN and isn't afraid to show it.
but the other dude is proving that he is actually a pussy because he is demolishing him! it's hairless winning or hairy.
fuck i love wrestling hairy chested dudes!!!!!
the red head lost and the other dude wastes no time undoing his gear, grabbing the red head from the neck and forcing him to pleasure him!