its the hairy chested hairy pitted bearded man vs the mop head clean shaven smooth boi……..naked, wrestling, in the water, under the hot sun, the man teaching the boi a lesson in humility!!!! fuck ya!!!!
(via tumblinwithhotties)
the mophead asked u a fuckin question punk……..do u give????
the men of
glee
…..this season they sure r hot….and they like to
show it off
….
flexing
, but arms, nice chests, cute faces….all make perfect
celebrity opponents
!!
who would not want to push this sexy mophead up against the wall and fuckin gut punch him while frenching???
bunch of showing off…..
fuck ya…..when he looks down at those big impressive guns how about i nail him in the gut???not bad for a nerd…..a cute built nerd……
look at that cocky stud…..fuckin kissing his guns!!
he is cocky 4 good reason….has a nice bod….but can he defend that bod in a fight with me??? going 2 the gym is not enuf, a MAN has 2 b able 2 fight his way to cockiness…….
comparing…..
check out the video……in the lockeroom and shower!! then some nice working out in the choir room…..
fuck ya!!! no additional words needed!!!
(via jayjaycgn)
mophead showing off…..the guns, nip and pits…..but can he wrestle??? can he prove those guns r meant 4 battle…..defend his manhood……lets use that bed as the mat and prove it bro!!
(via fuckyeahmalepits)
mophead gets some sexy foot treatment!!! then some hot kissing while being stroked!!!
mophead in orange: i am going to fuckin rip open ur abs!!!!!
dude in jock: fuck U then i will fuckin choke u out!!!!
mophead in orange: oh u think so fucker, then i will snap u in half!!!!
and not just across my knee, but across my shoulders man!!! AAAAAGGGGGHHHH!!!!! look at my power!!! i need some jobber to lick out my nips and blow me right now while i have U locked in this hold!!!!
dude in jock: not so fast sexy, time to go 2 sleep 4 u……..i am the alpha male around here!!!!!
maybe u will wake up with my cock in ur fuckin mouth!!
i am the man!!!
hot dude in the ring with a mophead……..nail him from behind man then pull him up with a fistful of mophead and fuckin drop him again with a headbutt!!!!
more disney dudes all grown up!! these guys started off young and innocent then grew in2 there looks, hot pecs, confidence, they r sexy and they know it!!! this time its the bois of waverly wizards……….
here is the male cast under the sun, showing off, shirtless, flexing, they r fuckin showing off because they know they r MEN now!! even the mophead younger bro that has really grow in2 his bod, now 18…….
really showing off…….they know they r hot, they know what will get them the ratings!!
here he is with the mophead from glee……..fuck would love 2 either take them both on or ref as they fight each other!!!
showing off some man pit hair…….
cute smile…….that i would like to pedigree in2 the mat!!!!
cant put my finger on it but this pic is pretty hot, could be the pecs that is showing on the mophead or the solid arms of the dude in blue, reminds me that as men we fight, we wrestle, we don't care about clothing, we strip off our shirts and pants and wrestle in our underwear if we have 2, our naked chests colliding with each other, our sweat mixing, our fuckin testosterone filling the air, we want to fight, 2 prove our manhood, our worth!!!
fuckin mophead vs fuckin mophead!!!! one dude shirtless in jeans, the other dude gets tired of seeing him show off so headlocks him without taking his shirt off, he knows he has a nicer bod, he has nothing to prove in terms of who works out there gym bod more, all he has to prove is who is the alpha man!!!!
dude is watching wrestling on the beach, getting turned on, groping his hard on!! fuck dude i will wrestle u, clothesline u to the floor, drop my knee on ur bulge, stomp on ur pecs and fuckin yank u back up by ur mop head, scoop u up and walk around with u over my shoulder, showing off my strength, showing off how wimpy u r, then i will tell my buddy to bend his knee and i will drop u shoulder first across his extended knee!!!!! fuck i'll rip off off swim trunks and shove ur mopped head in his manhood, forcing u to take it!!
fuck how much i love wrestling in swim trunks!!!! brings out the sadistic side of me!!
2 cute college wrestlers pose in their sneakers, shorts and tshirt, intimidating each other and the competition, but more each other. they share the spotlight in this picture but each one tries to look hotter, stronger, better then the other. i would fuckin take on either one, hell both of them!!! toss them around, grab the one on the left, hoist his leg up in an ankle lock, twisting it, while smothering the other dude with my foot on this throat. then 4 some fun i'll take off the dudes sneakers and sock and tickle his foot, make him laugh while continuing to crank his ankle, he will feel ticklish but also pain all over!! fuck ya!!!!!
mop head with smooth chest compares muscle size with the shorter buzzed dude with some hair on his chest.
mophead: mine r bigger
buzz: fuck u dude, look at these guns, u need to pay admission to c these! mine r bigger
mophead: fuck u dude, my arms will demolish urs
buzz: prove it dude!!!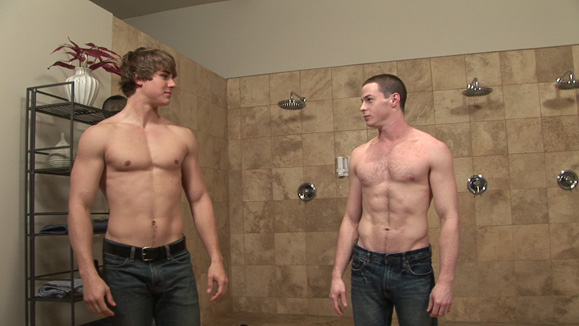 the dudes face off, taller smooth mophead vs short buzzed hairy chest, looking over at each other, sizing up the competition
mophead: tell u what fucker, lets settle this like MEN, lets wrestle
buzz: u got it shithead, but lets make it interesting
mophead: how is that?
buzz: loser sucks the winner
mophead: dude, i'm not gay, i'm str8, no fuckin way
buzz: if u think ur so strong then what r u worried about chickenshit?
mophead: fuck u pussy, i'm not chickenshit, bring it!
looks like mophead is the winner and now the dude with the big mouth has to open wide to pleasure him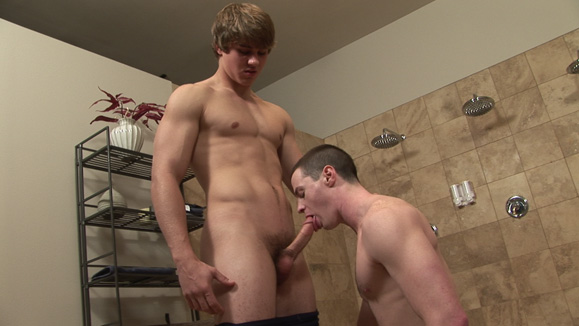 buzz: ok ok dude, u won, i'll suck ur piece of meat
mophead: fuck ya dude, i'm str8 but i do love a blowjob, i don't care what sex they r, so long as they have a hot wet mouth, i need my dick drained loser
just to show there r no hard feelings……….. a kiss, great way to end the match