dont resist, ur a foot slave, admit it………bow down to ur heel and worship his sweaty feet….
(via fuckyeahmalefeet)
dude uses the manly smell of his dudes sneakers to stay extra hard…….wonder who won this match????
(via underguy7)
this is fuckin humiliating!!
HOT!!! hairy chest singlet dude finds his opponent in the locker room and decides to feel him up a bit b4 the match…… yanks on the bulge in those sweat shorts until he is nice and hard. that singlet dude is hot…… look at the sexy bulge, perfect for clawing, that nice hairy chest and stubble on this face, his arrogance in thinking he has the right to inspect the dudes goods….. fucking HOT!!! his singlet hugs his bod nice and tight, gives us nice view of everything he has. fuck he needs to be across my knee in a dragon sleeper so i can play with his nips, yank on his hard cock and flaw his pecs and abs!!!! he needs to fuckin lick my pits clean with his stubbled face then suck me off after i pin him 1-2-3!!!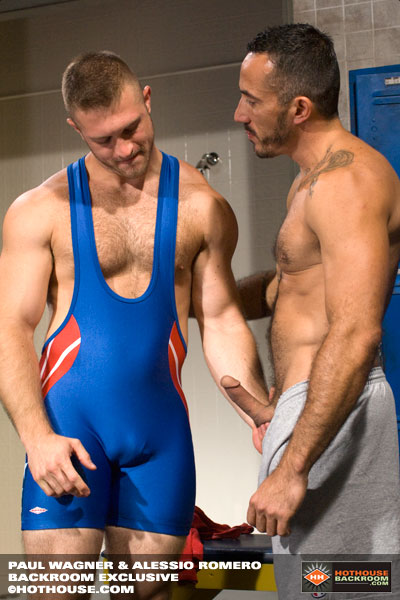 fuck ya…….. looks like he is a good cocksucker………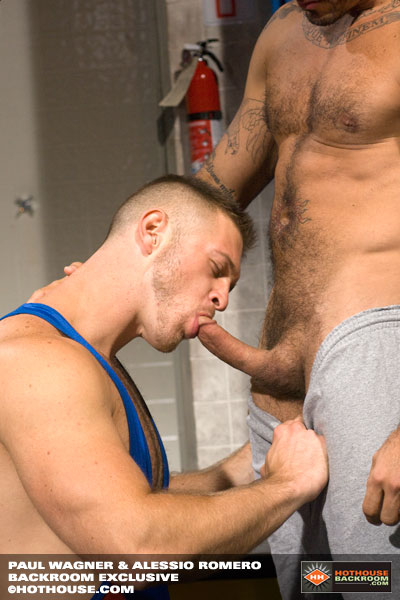 he is on the floor, legs wide spread, that shaggy hair a mess, that stubble driving me crazy….. how can i not just kick him right between the legs then smother my elbow down in 2 it while i shove my tongue down his throat!!????!!!!????
dudes that should be wrestlers!!!
i get that there are thousands of jobs out there but certain dudes we just built to wrestle. whether its because they look hot in there uniform but would look even hotter in a singlet……. or because he is so cute that i want to beat on him…….. or because his muscles should be put the use of fighting not doing what he is doing……. whatever the reason this post examines them all!!!
like the two dudes above, they deserve to be wearing their square cuts and underwear in the ring, they look small and extra lean but they r killers with the submission holds. they toss their opponets from ring corner to ring corner, cheat, double team him, fuckin toss them in the corner and give them a mighty splash!!!! when they r done they should be straddling his chest and flexing to celebrate the win!!!!
BASEBALL


this dude has a bod that is too hot to be wasted behind a shirt playing baseball. he should be in the ring, show it off, he already has a tight uniform so he will look good in lycra swimtrunks!! he should be flexing, showing off to the crowd, fuckin ramming the faces of his opponents into his abs and forcing them to suck on his nips. he should be walking around his fallen opponent with a sly evil smile on his face, ready to drop a few elblows on his back and head. baseball is wasted on this cocky dude!
VOLLEYBALL


this dude has a build that is designed to break jobbers in the ring. he can even wear his fuckin board shorts in the ring!! he can smother his jobbers faces into his bulge, use his drawstrings to tie knocks around their cock to keep them hard, fuckin flex those big guns in the jobbers face, force the job to muscle worship him. he should be on the top rope, arms in the air, pits on display, then fly off and deliver a flying elbow drop between the pecs of the loser laid out on the floor. his signature move can be the suplex because he is big and well build, very muscular, he is wasted in volleyball.
SINGER


I am not a fan of justin but in this one pic……. shit dude even i will admit he looks fuckin hot!!!!! those sexy arms, the bulge in this jeans, showing off some skin, that tight sleeveless, that buzzed head and sexy facial hair……… this pic proves that he should be in the ring wrestling not in the studio singing. main reason is because i fuckin love wrestling dudes just like this. stomp on his big arms, rip off this tank, fuckin claw the shit out of his pecs, lick the sweat from his face then force him to lick the sweat from my pits! pull him up by the hair on his chin and fuckin chop him across the chest then nail him in the balls. come on dudes, this justin was meant to wrestle!!

same with that fuckin american idol mophead. he deserves to be a jobber wrestler, grab a fist full of hair and smash him into the ring floor, drop a few elbow drops on that sexy chest, hair his legs in the air and drop a knee between his legs. he deserves to suffer like a good little jobber in his wrestling career.
MECHANIC


this dude is hot and shouldn't be locked away in a service shop somewhere, he should be in the ring where he can strip off his shirt and wipe the sweat off his face with it, then smother his opponent with it until he KOs. he can then scoop them up and put them in the corner upside down and stand on his crotch in a cruel tree of woe!!!!!! he deserves to have his bod worshipped publiclly by the loser. his whole character can actually be the mechanic wrestler, he can show up in that seam outfit, oil dripping from his bod. by the end of the match his opponent is just as dirty and he can smother pin him, bulge to face 1-2-3, u won mechanic!!!!
SUPERHERO


when i c superman like this, tied up, ruffed up, pits exposed, big chest exposed…. makes me think this should be him after a match, i would fucking love to claw his pits, ten dig two fingers into each pit, then start to pull on the hair. chop his sweaty chest and force him to kiss me while all tied up. wrestling is a bitch and i want superman to be mine during the match!!!

this superhero needs the same abuse, a big kick to the balls and a chop to the chest. then hold him nice and close as i reach into his superunderwear and play with his nads for a while!

batman deserves the exact same punishment. he needs to spend time in the ring being abused like the jobber wrestler, not on the streets looking for thiefs and jay walkers!
FOOTBALL


these dudes r 2 hot to be in the ring, some already have their shirt off so they like to show it off. with arms and aggression like that, they deserve to be in the ring!
COP


fuck this dude already has a mean streak so he needs to unleash it in the ring, he needs to spend more time in the ring fighting and destroying jobbers, not on the street writing parking tickets and stopping dudes that run the red lights.
THIEF


with gear like that, this mystery man deserves to take out his aggressions in the ring. he should be a wrestler, sneaking up on his opponents, wrapping himself around his prey and squeezing a submission out of them!
COP


oh fuck U know where i will go with this!!! this dude is too hot to be stuck in a cop car looking for jaywalkers, he should be shirtless and in those underwear in the ring. he looks mean, i bet he can take down dudes twice his size, fuckin destroy them, smother their faces in his moderately hairy pits, force them to worship his chest and then crack them in half over his knee in his killer backbreaker!! his finishing move will be the dragon sleeper, after they r out he will get his gun (fake of course) and pistol whip the loser bulge!
BASKETBALL


these dudes r 2 hot to be hidden away in a backyard playing hoops, in the arena they have to wear tanks which don't let them show off their sexy chests. they should be wrestlers, be part of a 5-man aliance, they can even wear their shoes and shorts during the match. can u imagine? when one dude is fighting someone else, his 4 buddies on the outside of the ring cheering him off and helping him cheat. then the dude tosses him outside the ring and distracts the ref, oh dude they will use the kids head as a basketball as they beat him outside the ring, 4 on 1. fuck they r 2 hot, they need to be wrestlers!

this basketball player should also be a wrestling but for another reason. he should be in the ring with me so i can fuckin tear him apart. i'd love to work over those pecs, really claw them slow and good, then rake those abs until they r mesh. hold down his arm with both of my hands while i drop knees on the muscle and in the pits. finish him off by rubbing his stubble face in my bulge, smothering him, forcing him to smell my man smell until he passes out from the lack of oxygen. wake him up? easy!!! i'll grab his basketball and fuckin spike it on his bulge!!!
FUCK!!!!!!! checkout this HOT pic!!!!!!! dudes r just hanging out playing pool, they get into an argument and decide to settle it like men, wrestling. the one dude strips his shirt off, he is a MAN and men wrestle with exposing their fuckin chests!!!! he beats down on the other dude, fuckin humiliates him in hold after hold, the dude begs 4 mercy and our cute heel finally gives it to him. but he decides he has not had enuf pain or humiliatation, so he ties up his hands and legs and gags him, pulls off his shirts, fuckin pulls down his jeans and leaves him on the pool table. now the dude is gonna nail him right in the balls with the pool ball!!!! and there is not one fuckin thing that the dude can do about it!!!!! this dude is a killer!! he is a monster!! he is a fuckin awesome wrestling!!!!!!
look at how hot he looks, his bod nice and tight, jeans looking great on him, this sneakers hot, he sees the balls of the other dude, this dude is ALL MAN, he knows that us men cherish the jewel that is between our legs, he is thinking of his own manhood and how superior it is to the loser tied up and gagged on the pool table. fuckin hot!!!!!
this dude is a killer, a destroyer, he is the type of dude that u don't mess with, the type that will fuck u up in the ring, he takes no prisoners and has no problem hurting u until multiples submissions then making u suffer even more with humiliating shit like this. this dude needs to be my tag team partner, we would fuckin rule the ring!!!!! if that were u tied up on the pool table and i was there with my buddy, i would fuckin cheer him on while he nails u in the balls, then we'd straddle ur beaten bod and fuckin make out while gut punching u in between make out sessions!!!
fuckin HOT!!!!!!
he gives him a little lick after as a treat b4 he humiliates him even more and eventually gets serious while he makes him suck his cock. look at the intense look on his face while he is being sucked, he totally loves it!!!!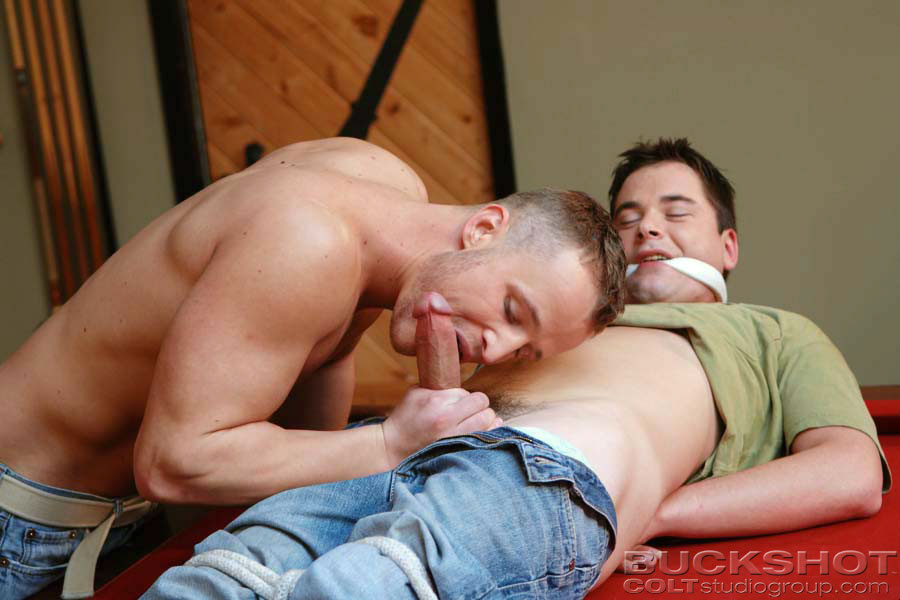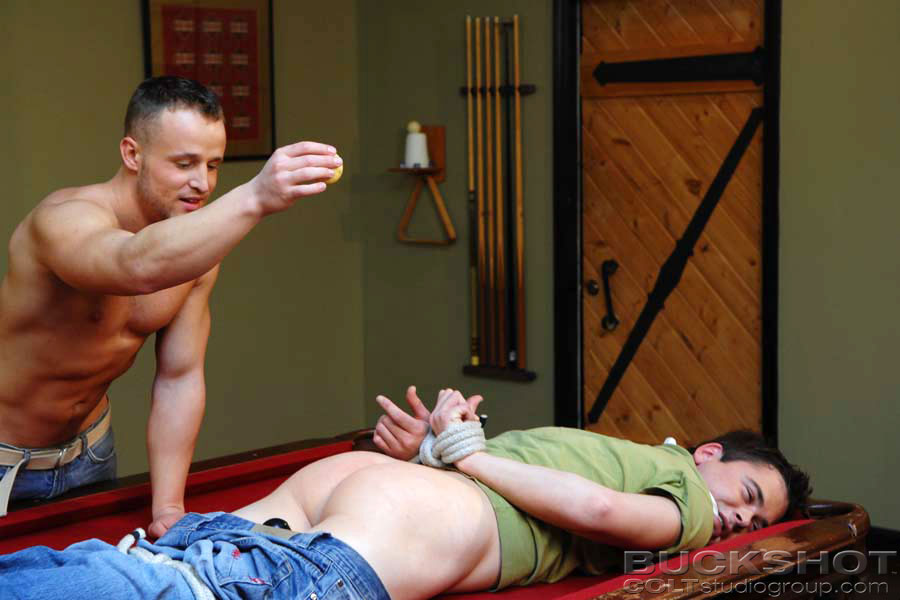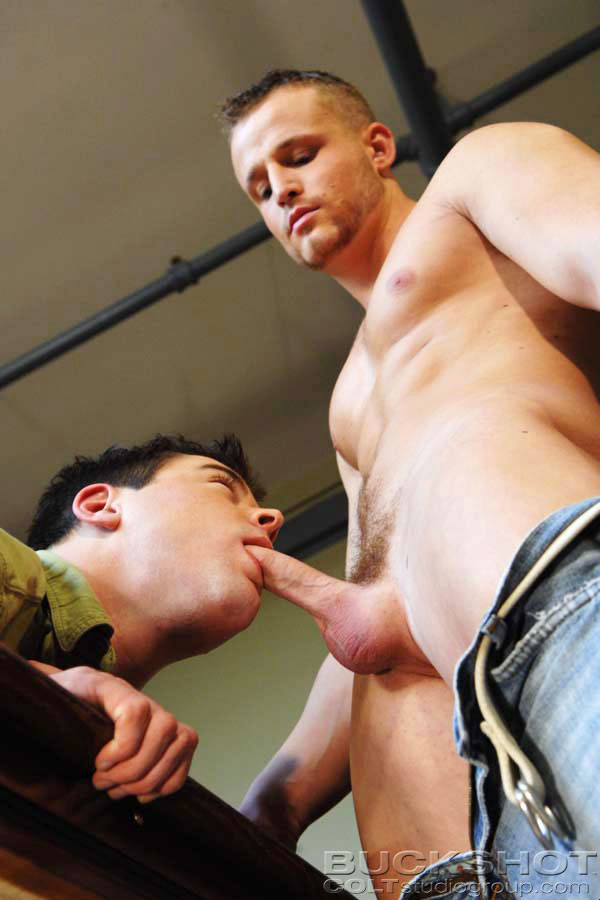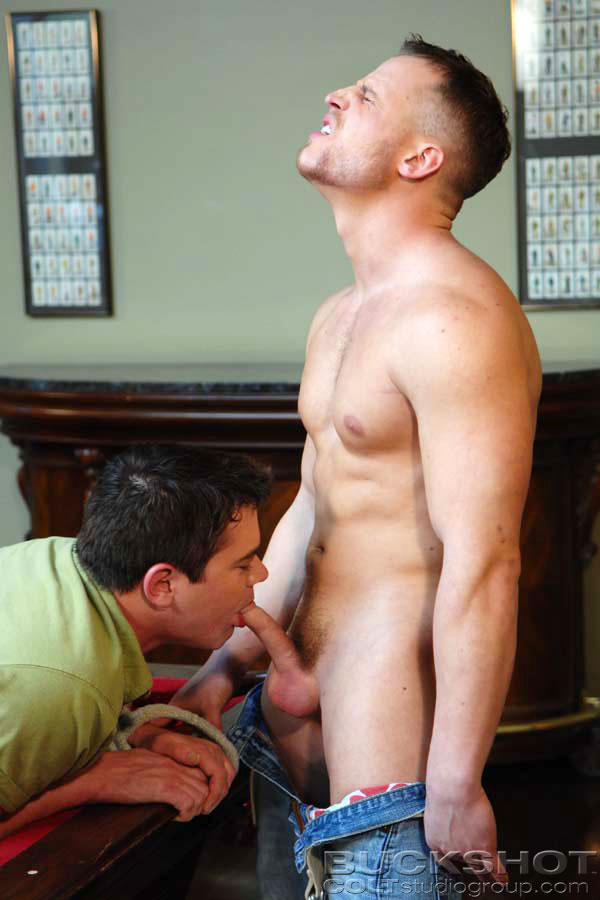 look at these hot fuckers!!!! they probably all work out together at the gym, encourage each other to show off by pulling off their shirts, probably flex in the mirror while the other dudes cheer him on, fuckin hotties that deserve to be wrestled!!!!
the 1st dude will go down hard with a drop kick right between the pecs!
2nd cocky sob gets a wedgie 4 showing off his underwear waist around that hot thin lead bod of his followed by a slap to the balls.
3rd dude gets to cry his submission in my crab, while the 4th dude suffers in the camel.
the last dude i will take my time with, really work over his abs, dig my thumb in his bellybutton and grab his ab meat and claw in deep, chop his adams apple, do a few leg and elblow drops then some knee drops until i finally rack him across my back shoulders and bounce him up and down, killing his back. the match will be over when he agrees to suck my fuckin cock!!
we went thru this yesterday but i will say it again, wrestling isn't just about fighting ur opponent or showing ur dominance over him, it is about fuckin proving that u r more man then he is!!!!!! here two dudes in the their streetclothes strip down a dude, armbar him from behind and twist his nips. they want to punish and destroy him, him naked to the world and them still in their street gear. fuck thats hot!!!
this is the view U will see when u challenge a better wrestler and the stakes are loser sucks the winner!
isn't this dude scream "kick me in the balls"
trust me, i'd love to!!! teach him a lesson in showing off so much!