he looks like a fuckin bad ass fighter!!!!
1 way to regain controle…….
the dude is HUMILIATED!!!! lost the match, dude pins and flexes over him, his cock at attention, the stakes were simple, loser sucks winner. get that pussy mouth ready bro!! he wants to claim his prize!!!
look at that beautiful clothesline, dude in blue takes down the dude in purple, makes it look so fuckin effortless!!!!!! his expression says it all, he wants to take the dude down HARD!!!! will he????
oh, vicious stomp to the head outside the ring on the apron. i don't know why but kicks and stomps always give me instant wood!!!!!!
but our champ bounces back and goes for a beautiful leg lock pin, look at the purple dude, he is out cold, arms out to his side, he looks very fuckable!!!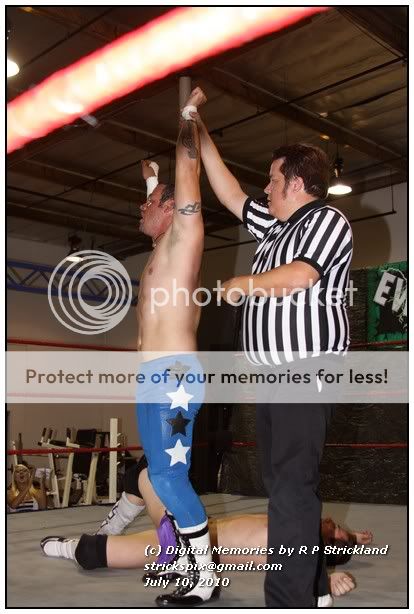 the winner!!!! proudly showing off!!
i fuckin love it when i get together with my buddies and we hang around in our singlets like this picture!!!!! here these studs show off in there tight lycra singlets, showing off the bulge and tight chests and pecs, one dude wants to show off his abs so pulls down the straps, drinking beer, having fun……..its a hotel so there better be some fuckin hotel wrestling after a couple more beers!!!!!
a masked wrestler posing………naked!!! those pits need a claw, those nips need some twisting and that cock needs some fuckin yanking!!!!
well since he is not looking…………how about a claw to both of those hairy pits followed by a big knee to that bulge!!!!! then fuck it, i want to really work over those abs and fuckin make him regret having such sexy pecs by clawing the hell out of them!!!!
"come on dude, i know u cant take my head scissors, i will pop ur head off, it can all be over, u just have to lick the sweat off my abs and then i will let u go fucker, go on, lick it, ur muscles and sexy bod wont help u now, they wont help wrestle me, i'm stronger and better, now i will squeeze ur face off, pop ur head off if u don't fuckin lick my abs clean fucker!!!!!!!"
what would U do???????
fuckin HOT! cena and orton in their street clothes, in an apartment, ready to do battle!!! cum on orton, knock that hat off cena, rip his shirt in half and go at it dude!!
now these 2 college studs r ready to rumble!!!!!!! wifebeaters on, jeans sagging, waistband of their underwear, look at those lean bods, those nice arms, the look of determination in the eyes. they face off, ready to destroy, i have no doubt these dudes will wrestle until 1 dude cant wrestle anymore!!!! he will be on the floor, ko or reaching 4 air, the other stud almost naked, sweat dripping from all over, falling on his opponent, flexing over him, his bulge reeking of manhood shoved in the face of the loser. if it were me i would fuckin grab the hair of the idiot who had the stupid sense to face me and pull him back up to his feet, take his limp almost lifeless bod and hoist him up across my shoulders in a backbreaker, one hand squeeze his nads, the other clawing his face, parade him around, bounce him on my shoulders, remind him who is the MAN in charge!!
i fuckin LOVE this picture, total hardon pic!!!! two big muscle dudes, one older with shaved head, one younger with buzzcut and light beard, they team up against a smaller leaner dude. obviously one dude can destroy this kid, can totally snap him in half but they decide to team up against him instead!!!! show him a real lesson in wrestling!!! sone one dude fuckin locks an armbar fullnelson on him while the other goes 4 a huge gut punch!! look at the kids expression, he is hurting!!! pain all over by two way bigger dudes!!!
as if that was not enuff, then they take him down to the floor and stretch his legs apart while choking him out with their bare feet!!! fuckin painful and fuckin humiliating!!!!
what is hot about this pic is that the dude pinning and flexing over him is probably the same age as the dude he is pinning but twice as big, so he really wanted to show him a lesson, show him that dudes his age are still pussys compared to him!!!! he flexes and the other dude stomps on his head. what can be next for the kid????
more punishment until finally……….
they force him to please them, force him on his knees, stripped naked, they pull off their speedos and whip it out, make the young thin lean stud worship their manhoods!!!! total humiliation!!
fuck ya!!!!
dude on the left looks smoking in his singlet, his thick bod, hairy chest, hair legs, that lycra really clings tight on him, he is about to wrestle but cant help but notice his opponent in the locker room about to change into his red singlet (which is on the bench behind them). he sees the hairy dude in sneakers with sweat shorts and they r tenting out a bit. he decides for some prematch play and struts over there and does not say a word, just reaches over and grabs the semi hardon and strokes it, gropes it, turns it in2 a full fuckin hardon!!!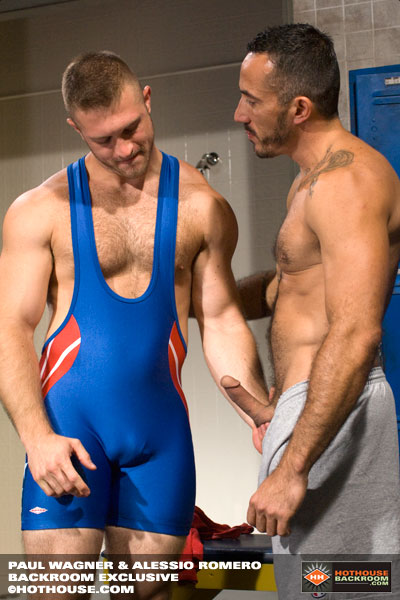 the opponents does not object and seems to be enjoying it so he pulls it out, gets a closer look at it. he decides to set the pace for the match and is about to squeeze his nuts but instead his own cock starts to harden………..so instead…………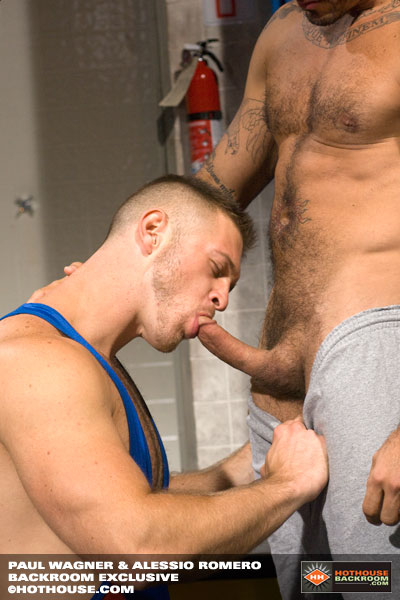 he gets down on his knees like a good jobber and fuckin sucks on the hardon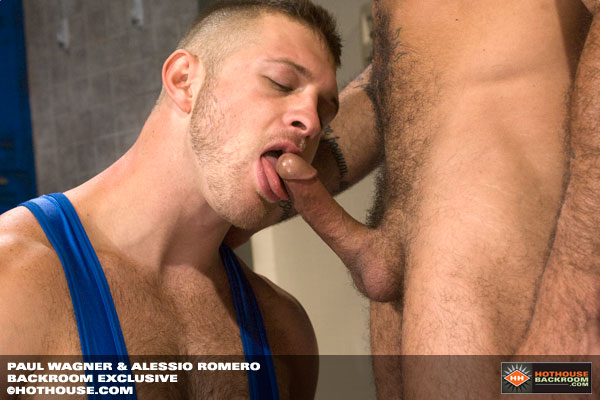 slathers it with his tongue, sucks it, helps his opponent jack it and eventually he will shoot all over the jobbers hairy chest, his singlet soaked in cum, his hairy chest sticky with cum……….. if he was smart he would then pound his opponent in the gut, hoist him over his shoulders, mixing his cummed hairy chest with the dudes shorts, grab the red singlet and carry him to the ring. hell dudes if it were me i would use his own singlet to wipe the cum off my chest then make him wear it!!!!!!!!
sometimes a dude doesn't need a stretcher and instead relies on his muscles to do the job………. like stud above! so he carnage??? why the need for our goatee stud to demolish both kids, lay them out and then stomp his bare foot on the backs for a pin and flex his guns for a photo shoot???? fuckin smirk on his face, goatee sexy, showing us those arms and pits, showing off his sweaty sexy chest????
because he is all FUCKIN MAN that's why!!!!! look at the way he demolishes both dudes…….
he recovers from a kick to the sexy face
to deliver a sexy uppercut fist to the jaw……..
fuck if that were me i would then bury two fingers in those hairy pits of his and fuckin claw then hell out of them, then pull them out and shove them up his nostrils so he can smell his own pit smell!!!!
then a perfect suplex for the other pussy……
then being the MAN that he is, he hoists each up over his shoulder like they r just toys, the sweaty bods mixing in with the sweat from his bod………. he knows they won't wake up soon after the devastation they just were given so he drags them to the locker room. fuck if that were U i would toss u outside the ring and keep going at it then fireman carry u into the locker room and write on ur chest in marker "pussy for fucking" and let the other wrestlers have some fun with u!!!!!
check out his expression, he is so cocky and arrogant, its like this is nothing for him, his expression is like "whatever bitch, i destroyed u", fuckin hot!!
that goatee is so sexy on him, the cool collective cocky expression makes me tent hard!!! i would fuckin love to go up against him but i will be the one teasing HIM a lesson, i would fuckin nail into his gut so hard, scoop him up and drop him across the top rope, leave him to lay there then fuckin kick up on his face and watch him fly to the outside of the ring!!!! go out after him, pull up by his goatee chin, roll him back in2 the ring and while i'm still outside i'll grab each leg and put one above the bottom rope, one under, then yank him foward and watch him suffer as his bulge rams in 2 the bottom rope, carpet burn to the fuckin extreme!!!!!!
sometimes the only way out of the ring after a devastating match is on a stretcher………. but the only thing more humiliating is when its the dudes that pounded on u that take u out!!!!
here we have sweaty studs after double teaming a stud, roll him on a stretcher to take him to the lockerroom. fuck his buddies will be teasing him about this loss for years!!!!
here we have a much bigger dude take down a smaller speedo stud, look at the bulge in his boxer briefs, the sexy referee helps pull the poor sap out of the room, fuck!!! if i were there i would fuckin climb on the apron of the ring and deliver a flying elbow across the dude in the stretcher then fuckin go after that sexy ref and tackle him to the floor!!!!
here we have two fuckin studly MEN flexing over there beaten foe, holding him up by his hair, on display, so fuckin hot!!!!! that is so awesome!!! flexing, showing off, they fuckin destroyed him, built up a huge sweat just demolishing him. now………….
they take him away on a stretcher. if that was U i would fuckin take u in2 the locker room where my buddy and i will continue the assault on u!!!!!
what do we have here?????
fucking 2 hotties dragging a beaten pussy away on a stretcher!!! oh fuck i would start with the dude in the sleeveless, knock him out with a fireman carry to the wall then go for the ref, kick him in the midsection, undo his shirt, shove his head between my legs, lock his arms behind his back and drop him in a pedigree!!!!
this dude found he couldn't take it either, probably so cocky that he thought he could take them both on but in the end he suffered just like all the other pussys b4 him!